Written by John Hibble
---
There are many wonderful stories about the history of our community. Some of them are true, some not-so-much, and some of them just need debunking.
One of these stories/myths is about King Kalakaua of Hawaii staying overnight at the Bay View Hotel. Supposedly, His Majesty was coming to visit Claus Spreckels and when the King got off the train in Aptos, no one was there to greet him, so John Daubenbiss of Soquel took the King and his entourage in his buckboard wagon to the Spreckels' mansion. It is a good story. Some parts are true and some, not-so-much.
Let's start out with how to pronounce the king's name. The Hawaiian language has basic rules. You say each vowel as you would in Spanish. Therefore, the King's name would be pronounced, "kah-lah-kah-oo-ah". However, most people now combine the "a" with "u" and pronounce it as "ow" so the most common pronunciation today is "kah-lah-cow-ah". I prefer the first version.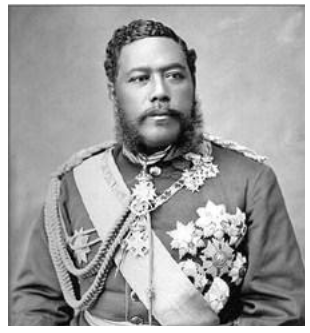 King David Kalakaua was well educated. During his reign, he restored traditional Hawaiian pride and culture, including the hula, which had been banned by the missionaries. Claus Spreckels, who developed a major sugar production and refining business on Maui, became a friend of the King and helped to finance the Monarchy. Spreckels was knighted by the King in 1879.
Claus Spreckels' main residence was in San Francisco. He had purchased almost 2,600 acres in Aptos in 1872 as a ranch to raise racehorses. He built a grand hotel on Spreckels Drive in 1875 and had a summer mansion built in 1877. Spreckels had a four-in-hand carriage drawn by a team of four horses with liveried coachmen who would meet him and/or his guests at the Aptos train station and take them to his mansion or the hotel.
King Kalakaua made a trip around the world starting January 20, 1881, and ending October 29, 1881. He was the first monarch in the world to accomplish this fete. It was on his final stop in San Francisco that our story begins on Wednesday, October 19, 1881.
Evidently, Spreckels accompanied the King on a whirlwind train trip to see the Aptos ranch. The same day the King went on to see the installation of the 12-inch equatorial telescope at Lick Observatory on Mount Hamilton. He then returned to San Francisco for his voyage home to Hawaii on Saturday. An article in the Santa Cruz Sentinel on Saturday, October 22, 1881, read;
We have had a live King in our county, the King of the Cannibal Islands although, he did not visit this city. He visited the home of Sir Claus Spreckels, returning as far as San Jose Wednesday last, and those who were on the afternoon train that day had the pleasure of seeing his Highness, and talking to him if they wished, as he is certainly an approachable personage. Is tall and swarthy, and probably turns the scales at two hundred and forty pounds. It was learned from the King that he was an active fireman, a member of company number four, and he signified his desire to be present at the Watsonville (fireman's) tournament, but a previous arrangement to visit Mount Hamilton denied him the privilege. He also said he would sail for his seagirt home today, taking a fire engine from San Francisco.
King David Kalakaua died on January 20, 1891. Two days later, the Santa Cruz Sentinel published a "Reminiscence of His Visit to Aptos" by a "Santa Cruzan Who Knew Him Well."
The late King Kalakaua visited Santa Cruz some years ago. He was on a visit to Claus Spreckels of Aptos, and drove over to this city, where he remained for several hours…
It is related that when the King and Mr. Spreckels arrived on the train at Aptos from San Francisco, the latter's carriage and horses were not at the station. While waiting for them Mr. Spreckels introduced his majesty to an old pioneer, who resided in Soquel. The pioneer, not accustomed to the ways of royalty, said, in acknowledgement of the introduction: "How d'ye do, King!" The royal personage, who was quite sociable, favorably impressed the pioneer, who soon felt as if he had known him for years. The Argonaut had a ramshackle vehicle at the depot station, and he asked the King to get in and ride with him.
"No," said Mr. Spreckels, "My carriage will be along soon."
"That's alright, come along with me, King, and I'll get you there in no time," insisted the good natured "forty-niner," who was very pressing in his invitation. In the meantime, Mr. Spreckels' carriage was driven up and the King was assisted in. As they drove off the pioneer called out: "Say, King! Come up and see my place in Soquel before you go home." His Majesty and Mr. Spreckels were much amused at the incident.
So, now we know that King Kalakaua did not stay at the Bay View Hotel or anywhere else, since he left Aptos to visit the observatory on Mount Hamilton. We also know that when the King arrived in Aptos that Claus Spreckels was already with him. The only question is whether the unnamed, good natured "forty-niner" from Soquel was really John Daubenbiss.
I have not been able to find any research on Daubenbiss which indicates that he met the King, so I asked Carolyn Swift, historian and co-author of a history book on Soquel. The following are her comments about the newspaper article.
"I doubt very much that it was John Daubenbiss. John was from Bavaria and not likely to say "How d'ye do, King." Being German, basically, Daubenbiss knew all about kings, and probably had a formal accent. He also fought with Fremont's battalion and was a naturalized Mexican citizen. He served several terms as Santa Cruz County supervisor. Frederick Hihn was an honorary pall bearer at his funeral. This sounds like the type of article where the reporter had a little anonymous fun with a friend or was just making it up because it sounded good.
So, there you have it.